THE BIOSPHÄRE POTSDAM WILL REMAIN CLOSED UNTIL FURTHER NOTICE.
Current information can be found here.
We will contact the respective contact person directly for booked events. If you have any questions, please send us an email to info@noSpambiosphaere-potsdam.de.
Incentives and highlights in the tropical garden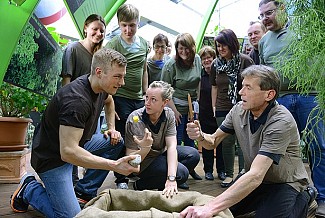 The 7,000 square metre jungle landscape in the Biosphere Potsdam with its many interactive areas offers lots of space for a variety of incentive programmes. These programmes can round off your event and are a lot of fun. The aim of these incentives is to promote togetherness and the community spirit of the team and to motivate the employees.