For a visit to the Potsdam Biosphere, proof of vaccination, recovery or testing is required for all persons aged six and over. Please show this proof when entering the hall. If you have any questions, please do not hesitate to contact us at info@noSpambiosphaere-potsdam.de or 0331 - 550 74-0.
Incentives and highlights in the tropical garden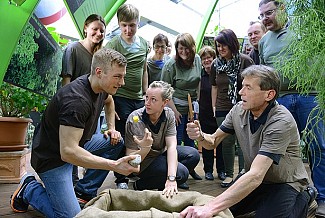 The 7,000 square metre jungle landscape in the Biosphere Potsdam with its many interactive areas offers lots of space for a variety of incentive programmes. These programmes can round off your event and are a lot of fun. The aim of these incentives is to promote togetherness and the community spirit of the team and to motivate the employees.